Individual Attention and Personalized Care. Dr. Christopher Saalfeld grew up on a farm outside North Bend, Nebraska. After high school, he attended the University of Nebraska-Lincoln for his undergrad where he also played football from 1996-2000 (as an offensive lineman). Chris was an academic All-American, a letterman, and was a member of the 1997 National Championship team and was on two Big 12 Championship teams. He then attended Palmer College of Chiropractic West out in San Jose, CA where he graduated in 2006.
After he graduated, Chris and his wife moved back to Omaha, where he started practicing chiropractic that same year. His current clinic has been open for over 13 years, and Dr. Saalfeld has been a chiropractor for over 14 years. Dr. Saalfeld has taken additional courses and training in various soft tissue treatment techniques to facilitate the spinal adjustments and address soft tissue imbalances.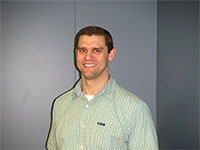 Call us at 402-393-0280 to schedule an appointment or stop by and see us at 2430 S. 73rd Street, Ste 201 in Omaha, NE.